On-Site Readings With Julia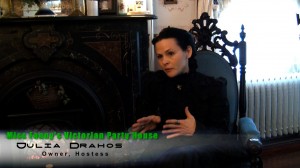 Heaven is closer than you think. As a little girl I felt and saw things, but later in life lost the connections to my gift by second guessing everything. Our minds tend to be open more when we are children, I later realized this was something that would always be with me and embraced it.
All of us have these connections and some are more open to it than others. The best way to describe it is that I feel and see things run through my  head almost like a movie reel. I like to call it a long distance connection to another dimension. I'm an open channel for spirits to relay messages from the other side.
Whatever it is I enjoy helping others make these connections to heal and help with grief and knowing their loved ones are happy and safe after they pass on.
If you are interested in setting up a reading session please call Julia at 845.518.0950 or email missfannys@yahoo.com Group readings available for your private event. Phone readings also available. Group Rate is $50.00 per person which is three or more at same time approx 2 1/2 hrs
Miss Fanny's is located in upstate New York and has been featured on Haunted Collector and My Ghost Story.
Gift Certificates Available
One hour  private readings $70
Just click the "Buy Now" button below and you will be sent to PayPal to complete your order.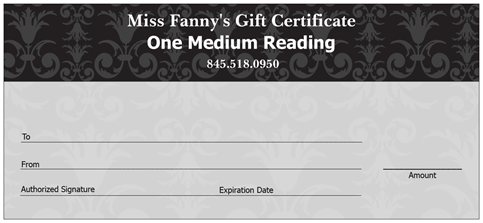 Order your gift certificate by 12/18/2017 in order to ensure timely delivery.
One hour reading for $7o.00.