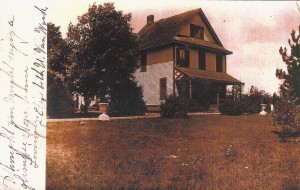 Van Wyck-Boos House History
This home is listed in the national historical register.
Built circa 1870, the house is primarily significant for its unaltered interior. In the 1984 survey, the then owner, Fanny Boos advised that the house was built by her great-grandfather, Stephen C. Van Wyck, who also moved the kitchen wing here from the original house site at the intersection of Van Wyck Lane and Lake Walton Road after a fire circa 1870. However, upon an interior inspection of the house, it appears as though a late 18th century house was constructed on this site with later 19th century additions. The basement retains a cistern and hand hewn beams in the older section of the house.
The interior is in the Italianite style with double parlors, double doors, ceiling medallions, steam radiators, black marble mantles with round arched openings and wide board pine floors. A third floor reveals a small stair and less ornate rooms, probably utilized as the servants quarters at one time. The house also contains a fourth level which is currently unfinished.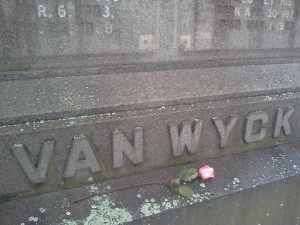 Van Wyck House Family History
Cornelius S. and Phoebe Van Wyck
Stephen C. Van Wyck: Born June 22nd 1850, married Elizabeth Underwood Born 1851. Married in 1872. According to the 1880 census they were farmers with 2 children, Robert M. and Charles.
Robert M. Van Wyck: Born January 16th, 1876, married Louise Luckey Born April 30th, 1875. According to the 1910 census, Robert was a bookkeeper for a chair factory and they had 1 child, Fanny Elizabeth Van Wyck.
Fanny Van Wyck: Born April 6th, 1903, married Charles Boos. Fanny Van Wyck passed in 1988 leaving the house to the town and was hoping to have the house remain intact with all her possessions,unfortunately the contents were auctioned off and eventually the house was sold. Fanny's wishes were to have the house open to the public and kept almost like a museum.  Along the years of living here i have found out many similarities between her and I. She had psychics come to the house and would hold sessions in the  library room and recorded them, She was a dog lover and enjoyed having people around and would hold barn parties.  She attended a ghost hunt when she visited England and said she thought she brought home the spirit of a little girl. Maybe she was right,we have heard ghostly children and have E.V.P's of a child whispering "mommy". Along with the child ghost there has been evidence of a man shadow figure and a woman who may be Fanny herself protecting her home.